Description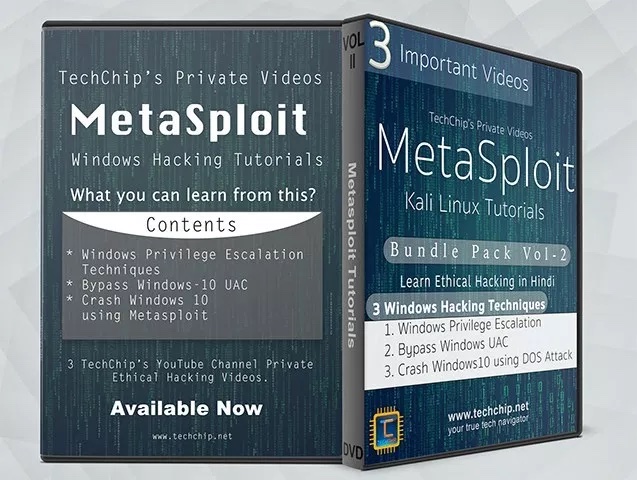 Metasploit Kali Linux Tutorials for Windows Hacking Bundle Pack – Vol-II
Private Videos of TechChip Youtube Channel

Difficulty: Beginners
Format: Video MP4 [1080p]
Total Download Size of 3 videos: 149.1 MB
Language: Hindi – हिन्दी
Operating System Used: Kali Linux
*Old TechChip's Private or Deleted Video
This bundle pack has my three ethical hacking private YouTube videos. Metasploit Kali Linux tutorials for windows hacking techniques details are below
Windows vertical privilege escalation techniques
Bypass Windows UAC
Crash Windows-10 using windows vulnerabilities [DOS Attack]
Note: I've already uploaded these videos on my YouTube channel but these videos are currently unavailable on my channel due to YouTube community guidelines because these videos have been removed or private. so if you have already watched then you don't need to buy.
Subscribe my TechChip YouTube channel for learn ethical hacking, white hat hacking & many more about technology.
These videos are education purposes only. We do not promote, encourage, support or excite any illegal activity or hacking. We cannot be held responsible for any misuse of the given information.
Copyright:© techchip
Owner: TechChip
For any downloading issue: Email-me
this is digital product so no refund against any cancellation after download.
Thank You